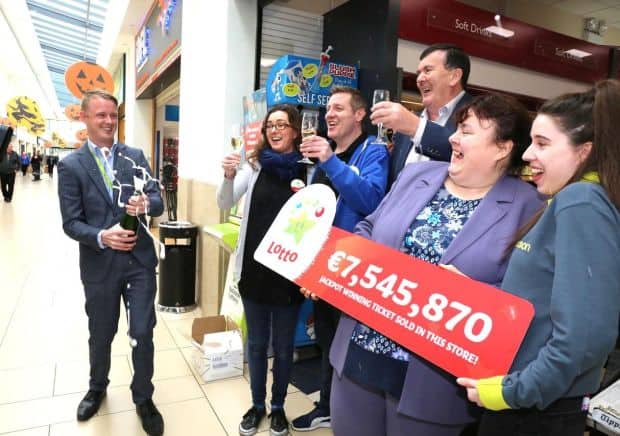 Winning €7.5m Lotto ticket was sold in Thurles Shopping Centre
A Co Tipperary shop was buzzing with excitement on Thursday as customers and staff guessed who could be more than €7 million richer after the latest National Lottery draw.
Wednesday night's winning ticket was sold in Eason in Thurles Shopping Centre. The ticket, which the National Lottery confirmed was a "quick pick", is worth €7,545,870. There was just one winner of the jackpot.
"It wasn't me, that's for sure," said Fiona Murphy, after she checked her ticket. "Pity, cause I have it spent already in my head. There'd be no stopping me – €7 million of it would be gone before the weekend!"
The winning numbers were 8, 10, 11, 25, 28, 32 – with the bonus number 35. "Hopefully, it was someone local," said Deirdre O'Toole, manager of the family-owned shop. "But we've no idea. Everyone is so excited. One of our staff was a few minutes late to work this morning – by the time she got here we had decided she was the new millionaire.
"We might never know who won the prize if they don't come forward. But this is a small town, the rumour mill has already gone into overdrive. The lottery give great advice to whoever wins it and what they should do next."
Mary Grace, National Lottery regional sales rep, said "congratulations to whoever won, and the first thing they should do is sign the back of the ticket – as well as anyone else who owns a share of the prize. Put it in a safe place, and then contact the claims department."
Back on the shop floor, every regular customer that walked into the shop was being asked if they were suddenly a multi-millionaire. Most jokingly claimed they were. "I wish," said Frank Hayes. "Would I be here if I was? I'd be in the Airport already heading for the Bahamas. Fair play to whoever won. I hope it changes their life for the better. It surely will."
Article by Irish Times