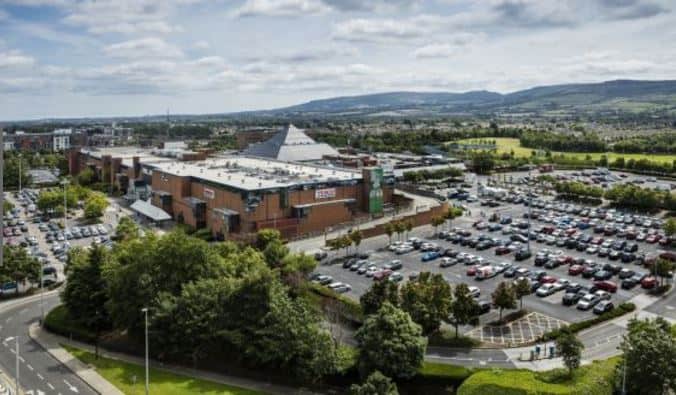 The Square Tallaght comes on market for €233m-plus
The long-delayed sale of the Square Tallaght is finally to proceed, with the selling agents quoting in excess of €233 million for a controlling interest in the south Dublin complex. The centre is producing a rental income of €13.98 million, which will provide the next owners with a return of 5.75 per cent. The 27-year-old shopping destination registered some 22 million visitors in 2016.
Joint selling agents Cushman & Wakefield and JLL may well find a buyer among a group of international investment funds, which have either bought or showed interest in the three large Dublin shopping malls sold in the past two years.
Heading the list is the UK property giant Hammersons, which along with Allianz paid €1.85 billion for the loans attached to Dundrum as well as 50 per cent stakes in the Ilac and the Pavilions in Swords. US investment group Blackstone, which bought Blanchardstown Town Centre for €950 million, could also be a runner. So could German pension fund BVK, which acquired Liffey Valley for more than €630 million.
US investors Davidson & Kempner, Oaktree and Hines are also expected to take a close look at the Square, which is being sold on the instructions of the National Asset Management Agency. The sale will include 118 of the 160 shop units as well as a cinema with 13 digital screens. It will also include more than 2,400 car spaces.
The centre extends to 53,603 sq m (577,000 sq ft) and sits on a site of about 27 acres. Some of the Square's units were sold to institutions, traders and tax investors when the centre first opened for business.
Anchor tenant Dunnes Stores owns all but a small section of its 9,290 sq m (100,000 sq ft) store; Tesco also owns its 5,574 sq m (60,000 sq ft) outlet, while tenants Debenhams pays an annual rent of more than €1 million and Heatons contributes more than €800,000.
The top 10 tenants account for more than €5.7 million of the rent roll. The IMC cinema brings in a rent of more than €670,000. The overall weighted average unexpired lease term at the centre now stands at more than seven years.
Whoever buys the Square will undoubtedly reassess the prospects for enlarging the shopping facilities. Dunnes Stores has objected in the past to two extensions planned for the northern and southern ends. One of the proposed buildings would have a lettable area of 6,038sq. m (65,000sq. ft), as well as eight further retail units extending to more than 1,393 sq m (15,000 sq. ft).
The southern extension provides for a single-level unit, located off level 3, with a retail area of 5,524 sq. m (59,470 sq. ft). The hugely successful Penneys chain is reputed to be interested in opening a new store in the planned extension.
According to Kevin Donohue of Cushman & Wakefield and John Moran of JLL, the sale provides an investment group with an opportunity to control one of Dublin's largest regional shopping centres. They said the sale offers a superb trading opportunity at a time when retail sales are on an upward trajectory and the Irish economy is leading the way in the European Union.
Article by Irish Times