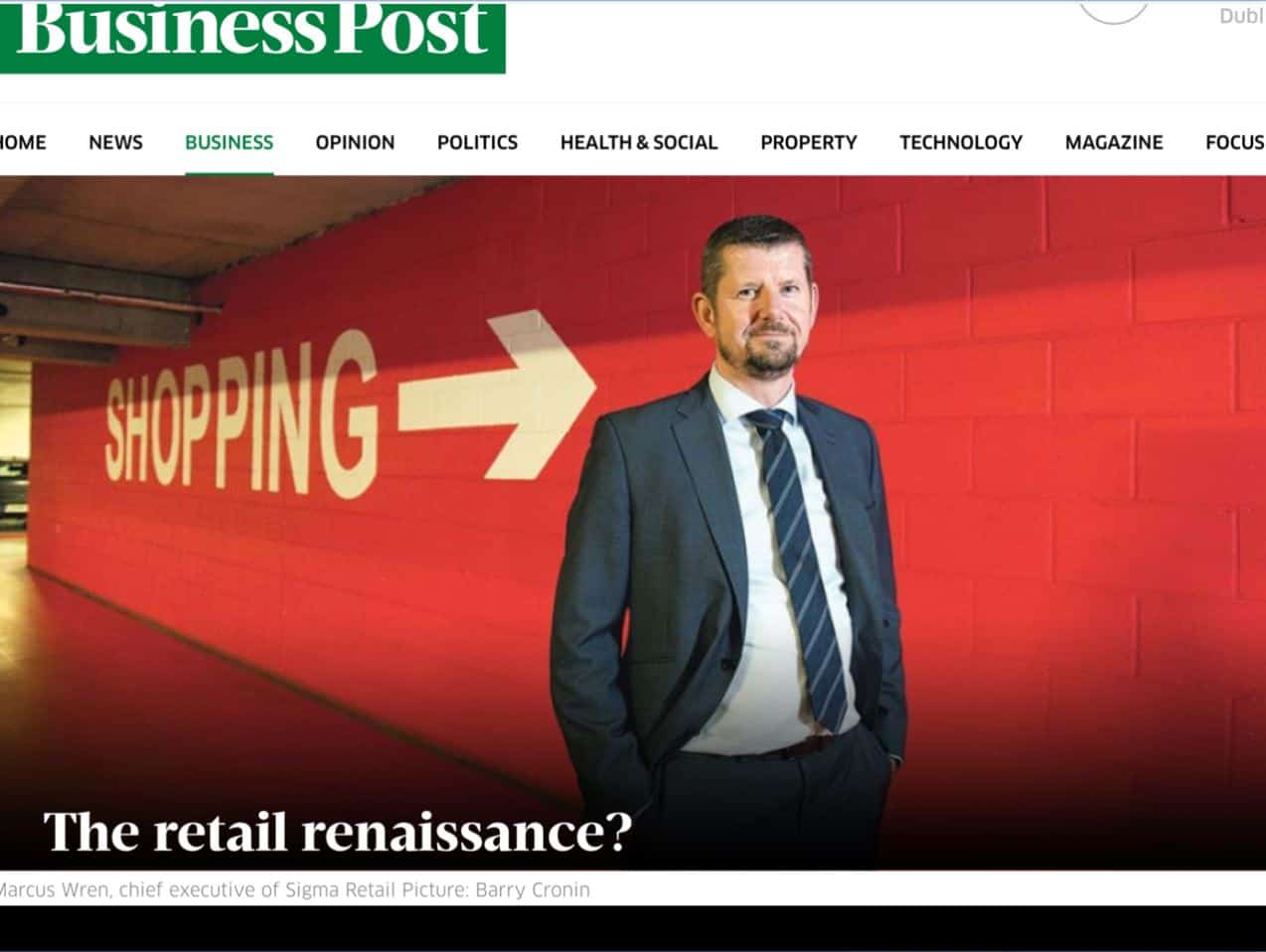 The Retail Renaissance?
By Jack Horgan-Jones, Business Correspondent, Sunday Business Post
Retail has for a long time been seen as the ugly duckling of the Irish property recovery. But it may be that its time has finally arrived, according to the country's biggest manager of shopping centres.
The legend goes that in recent years, a US investment banker was regaling colleagues about his Irish investments. The worm had turned in Ireland, and the one-time pariah state was the hottest ticket in town. And even better, everything was for sale, as badly burned banks turned tail. Investors had Ireland in their sights, and were snapping up everything they could get their hands on. "Buddy," the banker said, "I could sell a shamrock shaped turd right now."
Unsurprisingly, along with everything else in the country, a huge number of shopping centres were sold to massive overseas private equity funds. Marathon, Varde, Davidson Kempner, Avenue Capital — they all jumped on the Irish bandwagon. They went from nowhere to controlling vast swathes of Irish retail real estate around the country.
However, the recovery story has not been as simple for holders of retail assets. While those who bought office blocks and residential developments have seen their values and yields go through the roof, retail has lagged behind. Private equity buyers – who have a three to five-year investment timeline before they sell out – have not found the exit as easy going as the entry. Blackpool Shopping Centre in Cork, for example, was put on the market recently by Varde Partners. Having attracted just one bid (below its asking price of €117 million), it was quietly taken off the market.
Funds like Varde are now faced with a problem: they have the assets, but no profitable way to get rid of them.
The problem, however, is not that retail is unlovable – it's just misunderstood. That's the view of Marcus Wren, a former head of retail at Nama, and now the man charged with making sure that in excess of €300 million worth of retail space is running at full capacity. His company, Sigma Retail Partners, works with some of the largest private equity firms in the world to help maximise the value of their Irish holdings.
Rents have increased and yields have compressed in other asset classes, Wren says. "(But) in the retail market, other than the Grafton Streets and Henry Streets, the same hasn't happened. Yields haven't compressed to the same extent as in other than prime locations."
The problem is that if you're looking for similar dynamics in retail as have been available to office and residential investors, you're looking in the wrong place. "We would never buy assets in the hope that yields would compress, we buy them on the basis we improve net operating income," Wren said. Net operating income is basically the cash thrown off by an asset, less any operating costs. And within this measurement, Wren has seen growth. Across his portfolio of eight retail parks and five shopping centres, there is 1.7 million square feet of space, generating over €19 million in rent.
Across the portfolio, Sigma has seen net operating income increase by 10 per cent – and he expects that average figure to grow. In some instances, like Navan Retail Park, the rent roll has been doubled. Now, he's looking to the next phase in the Irish retail recovery story.
Wren has spent a working life in retail. In the late 90s, before it was the cultural touchstone it is now, he worked for Lidl, scouting the sites around the country that would eventually form the German discounters country-wide empire.
In 2002, when he joined Harrington Bannon, which three years later became Bannon, 70 per cent of that business was retail, dealing with major boom—time projects such as Dundrum Town Centre and the Pavilions in Swords. But theflow of these projects stopped in its tracks when the recession hit.
"The rumours of pending difficulties kicked off in late 2007, early 2008. We noticed some projects were being put on hold that had started construction. Retailers were pulling their horns in on expansion plans."
Bannon worked on rent reviews, keeping up its asset management business even in the downturn. But shortly after Nama was established, the chance came up for Wren to join the toxic loans agency.
"I was somewhat reluctant. I didn't understand Nama; a lot of people still don't. There was very little in transactions going on though, so I thought this would be a once in a lifetime opportunity to work in a fascinating organisation that was the inverse of what a normal business plan is – they're starting with a book and their job was to wind it down."
Wren worked on huge loan book sales. He wound down the agency's retail book. In late 2014, he decided to move on.
"I recognised that the markets were improving and Nama had a limited shelf life. Myself and Neil, my business partner, got together. We both recognised the need for an asset manager, and Neil was specfically asked who were the right guys in terms of asset managers."
The plan, as he saw it, was to make up for a "lost decade" of asset management, and help the new owners of the assets maximise their income. For years, relationships with retailers had been allowed to decay — vacant units, non-existent marketing and general inefficiencies were the order of the day.
"When we are about to buy an asset we go through a vigorous due diligence process, we go through what is likely to happen with the tenant: are they upward or downward rent reviews, how is that tenant performing and what, if any, future development potential do they have – are they suited for an extension, what's the footfall, what are the car park counts looking like, turnover performance etc? "
Across the portfolio, Sigma has seen net operating income increase by 10 per cent – and he expects that average figure to grow as the company gets its teeth into recent acquisitions. In some instances, like Navan Retail Park, the rent roll has been doubled.
Now, heads are turning towards the next phase in the Irish retail story.
For over a year, the private equity funds have been looking for a way out of Ireland, but individual asset sales are not attractive. As previously reported by The Sunday Business Post, a plan to float a publicly quoted investment vehicle with some of the assets in it has been actively considered for many months.
However, it has always come up against problems. The funds, for example, have large debt piles linked to the assets, larger in some instances than would be permitted under the legislation that covers Real Estate Investment Trusts (Reits). 'The last time the idea was mooted, values had also not climbed enough to allow the funds hit their target returns.
However, multiple market sources now believe that a new Reit, focused on retail, could be in the offing. Sigma and Marcus Wren are the names most often linked to such a venture.
"That option has been one of a number of others that has been explored by us, and we continue to explore all of the options," Wren said. However, he believes that a publicly quoted vehicle would need an expert asset manager attached to it.
"One of the reasons the private equity funds are finding it hard to exit the market is that there's no obvious buyer for them. If there was a buyer, they would need an asset management platform such as Sigma to manage the assets."
This, in turn, would allow more risk— averse investors the chance to buy into the shares of such a vehicle.
"A lot of them aren't traditional institutional assets. A German pension fund might not like them because they need a lot of hands-on asset management to get them up to institutional level. And that's where we come in and roll up our sleeves."
It seems that whatever turn the Irish retail story takes next, Sigma won't be far from the centre of the action.
Article by Sunday Business Post