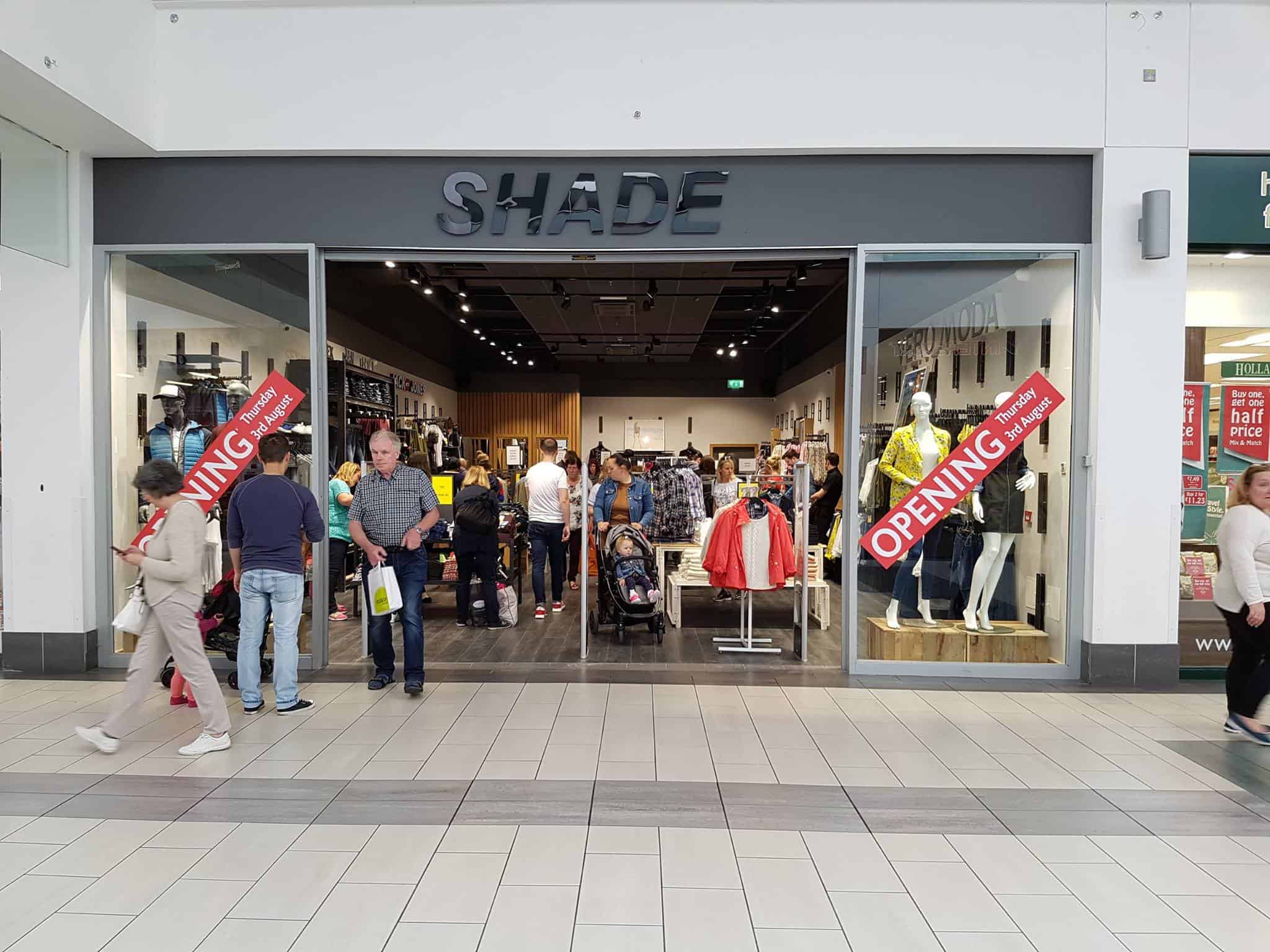 New clothing store Shade opens in Manor Mills Shopping Centre, Maynooth
Manor Mills Shopping Centre has just opened a new store called 'Shade', carrying popular clothing brands including Jack & Jones and Vera Moda. Shade is the first store in Ireland of its kind to carry both Jack & Jones and Vera Moda in one store. There had been a considerable amount of excitement leading up to the opening and a significant investment was made into the store fit-out. A large queue of excited customers formed outside the new shop on the grand opening day and fans of the young fashion brands were delighted with the offers on the opening day.
GMC Retail Ltd, the parent company of Shade, has a total of nine Jack & Jones stores and seven Vero Moda stores throughout Ireland. These stores are located in Dublin, Navan, Galway, Limerick, Tralee, Monaghan, Kilkenny and Athlone. Shade is a brand new concept that combines both Jack & Jones and Vero Moda brands into one shop.
2017 has been a great year so far for Manor Mills Shopping Centre and a number of new retailers were secured to occupy the remaining units within just a few short months. A significant amount was invested into the rebranding of the centre and plans for further investment are set to continue. Manor Mills Shopping Centre has recently been wired up for free wi-fi throughout the premises adding further to its appeal to shoppers. The remaining two remaining units are set to be occupied by Christmas, making the shopping centre reach full occupancy by the end of the year.
Manor Mills Shopping Centre is centrally located within Maynooth town itself and is located adjacent to Maynooth University. The shopping centre itself is home to 30 retailers including Dunnes Stores, Carraig Donn, Eason and Hickeys Pharmacy. There are over 500 free car parking spaces in a covered car park.
Gerry McCormack from GMC Retail Ltd said "We felt it made a lot of sense to have a clothing shop that catered to both men and women instead of just one or the other, and Jack & Jones and Vero Moda were obvious brand choices due to their intense popularity among Irish shoppers. As the brands have a younger audience, Manor Mills Shopping Centre is a perfect choice with its close proximity to Maynooth University."
Manor Mills Shopping Centre is asset managed by Sigma Retail Partners. Jenna Culligan, Asset Manager from Sigma, said "We acquired Manor Mills late last year and one of our asset management strategies from the outset was to bring in big brands to raise the profile and increase traffic and footfall into the shopping centre. We are delighted with the opening of Shade, the established names and the appeal to the younger customer is a great boost to the shopping centre and we are delighted to have them added to the tenant mix."