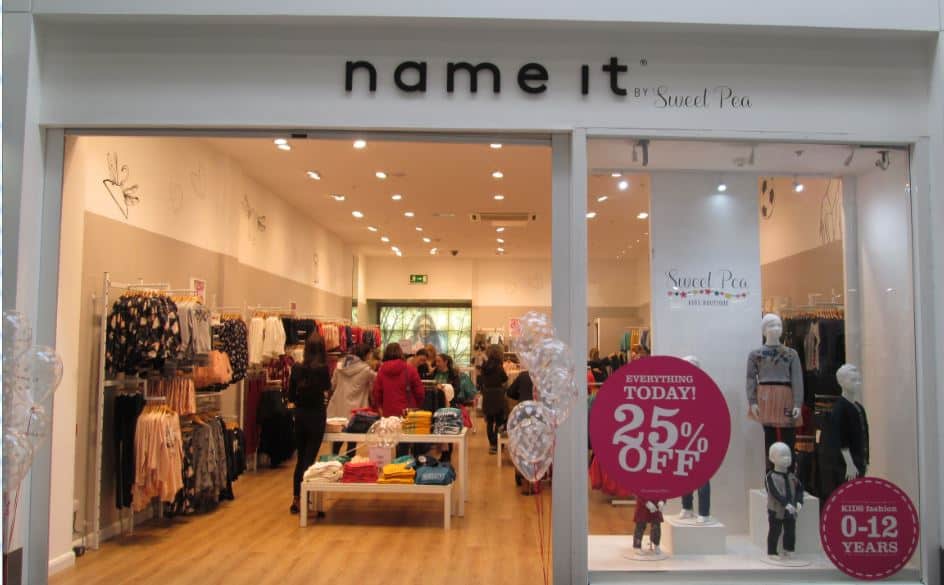 "Name It by Sweet Pea" is a huge hit in Manor Mills Shopping Centre
Manor Mills Shopping Centre has just opened another new store 'Name It by Sweet Pea', carrying contemporary children's clothing from newborns to teens, with an age range from 0 to 12 years. There was a great buzz in the mall with mothers queuing for Name It to open. The store was packed with parents and their children snapping up the great deals to be had on the opening day.
The store owner, Sarah Power, said "Our opening weekend was a great success! We offered 25% off all of our full price stock as well as special offers, which many were sold out within 4 days. The brand "Name It" is extremely well-known within the community with parents commenting on how excited they were that Name It is now in Manor Mills Shopping Centre. They love the quality of the clothes, its great price points and a lot of customers are asking about new stock deliveries and Christmas products arriving."
2017 has been a busy year so far for Manor Mills Shopping Centre with rebranding of the centre now completed and new retailers secured in time for Christmas. There is now only one remaining vacant unit on the mall which is currently reserved. Manor Mills Shopping Centre is asset managed by Sigma Retail Partners. Jenna Culligan, Asset Manager from Sigma, said "We acquired Manor Mills just under ten months ago and one of our asset management strategies from the outset was to bring in reputable brands to raise the profile and increase traffic and footfall into the shopping centre. We identified the need for a children's wear store in the centre given the number of schools and houses in the immediate catchment area. We are delighted with the opening of Name It, with its internationally recognised brand, it is a wonderful boost to the shopping centre and we are delighted to have them added to the tenant mix."
A significant amount was invested into the rebranding of the centre and plans for further investment are set to continue. Manor Mills Shopping Centre has recently installed free Wi-Fi throughout the mall adding further to its appeal to shoppers.
Manor Mills Shopping Centre is centrally located within Maynooth town itself and is located adjacent to Maynooth University. The shopping centre itself is home to 30 retailers including Dunnes Stores, Carraig Donn, Eason and Hickeys Pharmacy. There are over 500 free car parking spaces in a covered car park.