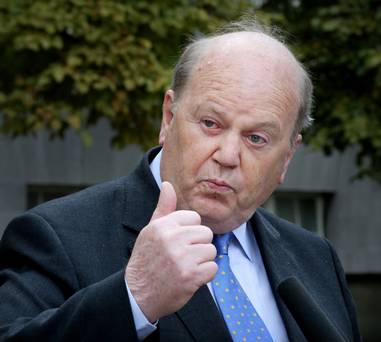 Irish economy growing faster than expected
Ireland has increased its forecasts for economic growth to 4.3% this year and 3.7% next year but even that may prove too pessimistic after a muted initial impact from Brexit, Finance Minister Michael Noonan said on Monday.
Ireland's economy was the best performing in the European Union for the third year in a row last year after gross domestic product grew by over 5%, beating forecasts that were trimmed back following neighbouring Britain's vote leave the European Union.
In its previous update in October, Noonan's department cut its forecasts for growth for the following two years by around half a percentage point to 3.5% in 2017 and 3.4% in 2018 — citing risks from Brexit.
"We now have two quarters of hard data since the Brexit referendum. They show that the immediate impact from Brexit has been more muted than initially anticipated. This is consistent with the trends emerging in the UK, US and euro area economies," Noonan said in a speech.
"Even the figures I announced today I would regard as conservative." The relevance of using GDP to measure the true health of Ireland's open economy was called into question last year when growth for 2015 was revised up to 26 percent after a massive revision to the stock of multinational firms' capital assets.
However, almost every other piece of data points to an economy continuing to surge ahead. The finance department said last week that updated forecasts due in the coming days would reflect increased uncertainties led by Brexit in later years. It has previously said a Brexit that left trade with the bloc governed by World Trade Organisation rules could knock 3.5% off Irish GDP within a decade.
Noonan said on Monday that it was "fair to say the balance of risks is tilted towards the downside at this juncture". He also said the amount of budgetary space the government has to increase spending and cut taxes next year is "very very tight at present" but he hoped it may loosen a little as the year goes by.
Article by Irish Independent