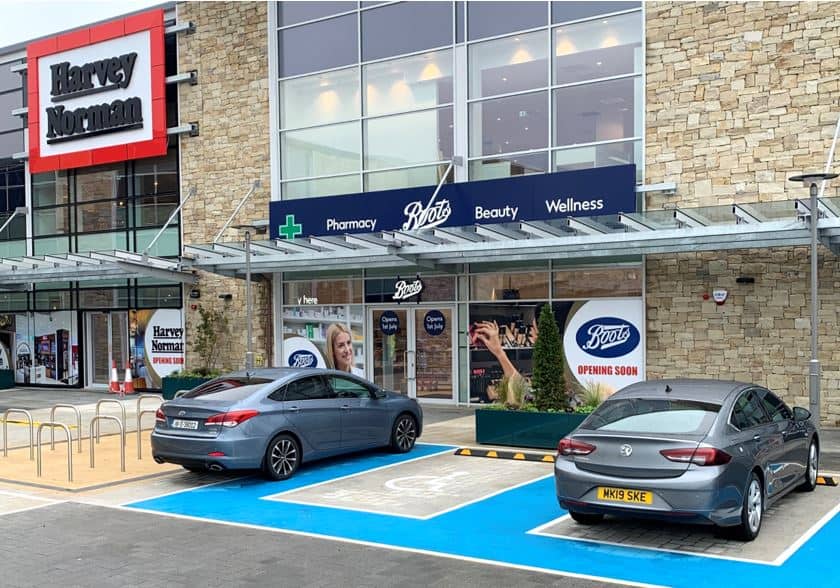 Harvey Norman Open Their New Flagship Store in Gateway Shopping Park's New Phase 2
Harvey Norman are set to open their premium store in the new Phase 2 development at Gateway Shopping Park, Knocknacarra, Galway on Wednesday the 22nd July. Harvey Norman will anchor the recently completed Phase 2 extension with the existing Phase 1 anchored by Dunnes Stores and B&Q.
The largest retailer of appliances, technology and interiors in Ireland, Harvey Norman, will open a new premium 60,000 sq. ft. store which will trade over 2 levels and will include furniture, bedding, homewares, technology and appliances. There is also a Synge & Byrne café located upstairs. Harvey Norman will be an exciting addition to the already impressive line-up which includes Dunnes Stores, B&Q, Boots, New Look and Next.
Commenting on the store opening, Harvey Norman CEO Peter Hearn said, "We are very excited to open the doors to our Galway store. Our team has created THE key shopping destination in Galway for furniture, bedding, appliances and technology. We are proud to showcase our large range of the latest Irish-made furniture and bedding, we've installed a huge kitchen display area, a games hub, a Wonder Photo Shop and more. The biggest global brands highlighted by the latest store fit design plus safe shopping measures are all in place for our Galway customers." There have been 47 jobs created within the store and warehouse.
Paddy O'Connor of Sigma Retail Partners, the asset managers for Gateway Shopping Park, said "we are absolutely delighted with the opening of Harvey Norman in our shopping park. We are excited to finally be able to welcome Harvey Norman to Galway and wish the Harvey Norman team all the best in their impressive new store. This is the first large scale retail development in the country for a number of years and the confidence shown in the scheme, Galway and also traditional retail can be seen with the quality of the international and national renowned retailers we are partnering with. Harvey Norman and the new Phase 2 tenants will solidify Gateway Shopping Park as a leading retail destination in the Galway catchment".
The new Phase 2 extension is the first provision of new retail space outside of Dublin since 2008 and the first in Galway in more than two decades. The development provided over 150 jobs during construction phase and is expected to create over 300 jobs in Knocknacarra and Galway when fully occupied.
The Phase 2 extension will have open-use retail units, food and beverage units, a creche and a gym. Gateway Shopping Park will include over 320,000 sq. ft of retail and leisure space and will make it one of Ireland largest shopping destinations.
Gateway Shopping Park already has an impressive line-up of retailers, including Dunnes Stores, B&Q, Boots, New Look, Next and McSharry Pharmacy.
More exciting retailers will be announced in the coming weeks.