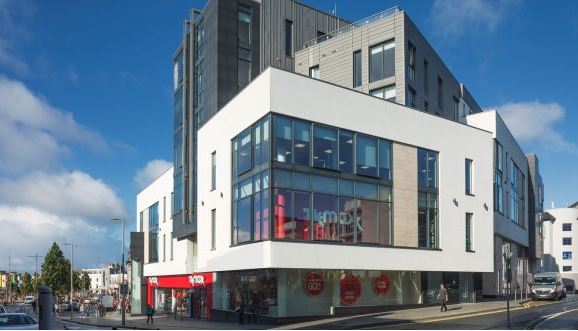 €50m portfolio sale includes shopping centres and parking lots
The Denver-based Calibrate Real Estate Ltd is to seek buyers for a €50 million-plus investment portfolio, including two well-located car parks in Dublin and Limerick, a suburban shopping centre in Swords, Co Dublin, and a commercial and residential development in Galway.
While the four properties in the Axis Portfolio are being offered for sale in a single lot, QRE Real Estate Advisers has indicated the vendors would consider "exceptional bids" on a lot by lot basis.
The highest value element of the sale, Citypoint, overlooking Eyre Square in Galway city centre, has a mixture of retail, office and residential buildings over a triple basement with five upper levels.
The development is anchored by TK Maxx and has several other blue chip tenants contributing to the overall rental income of more than €1.5 million.
QRE is seeking offers in excess of €23 million for the overall asset, which will show an initial yield of 6.25 per cent and has significant upward reversionary potential.
The two exceptional car parks are the Grand Canal Car Park in Dublin's Silicon Docks and Cruises Street in Limerick city centre.
Both facilities operate under short-term management contracts by Q-Park and are expected to report a total net operating income of more than €1.2 million in 2018. The Grand Canal park has 165 spaces located beneath the Bórd Gas Energy Theatre. Cruises Street has 340 spaces and trades well because of its location off Limerick's prime retail pitch.
QRE will be seeking offers of more than €15 million for the Grand Canal facility, which was bought by Calibrate for about €5 million in 2014. Cruises Street car park is expected change hands for more than €2 million.
QRE will guide €10 million for Boroimhe Shopping Centre in Swords, which will show a net initial yield of 8.2 per cent. The neighbourhood centre extends to 3,158sq m (34,000sq ft) and is located in a densely populated area. The centre is anchored by SuperValu, has virtually full occupancy and produces a rent of €885,000 per annum. The weighted average lease term for the tenants is some 12.5 years.
Mark Forrest and Bryan Garry of QRE, who are handling the sales for Calibrate, said the diverse portfolio should attract a range of investors seeking prime assets with strong contracted and operational income and the opportunity to take advantage of significant reversionary potential.
Article by Irish Times