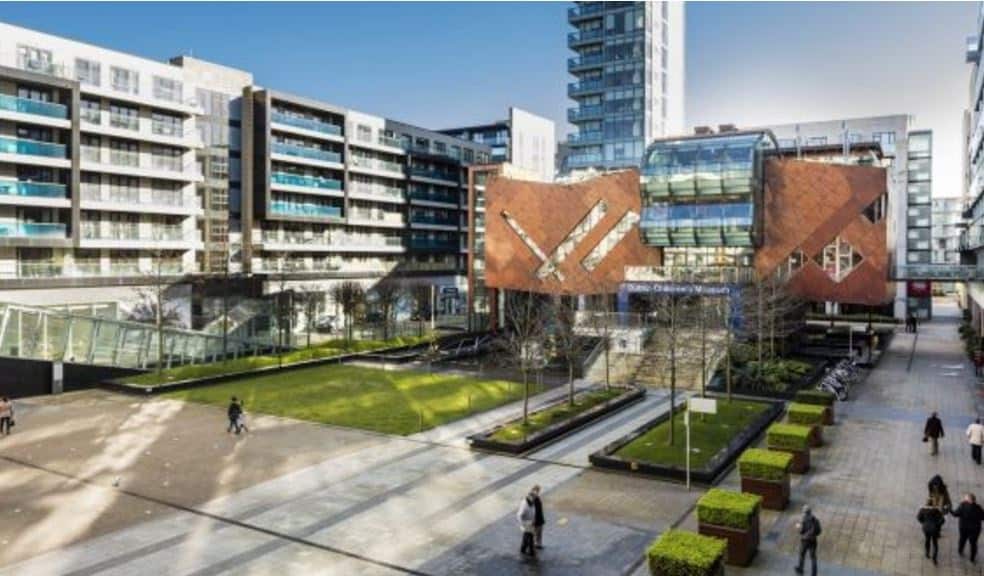 Clarendon buys 24 more shops at Beacon South Quarter, Sandyford, Dublin 18
Clarendon Properties, an Irish property investment company headed by Tony Leonard and Paddy McKillen, has acquired a second phase of shops at Beacon South Quarter in Sandyford, Dublin 18, as well as Cork city's Merchants Quay Shopping Centre. A Belgian company Finaxer will also have a stake in the Cork investment.
Early last year Clarendon and a UK investment partner U+I bought eight shops in Beacon South Quarter including Bo Concept, Your Local Pharmacy and Roche Bobois. Clarendon has now completed the purchase of a further 24 shops, 10 of which are still vacant, at €10.6 million.
The 14 shops trading are bringing in a net rental income of €534,407 and a full rent roll of €948,289. This figure will rise when the vacant shops are let and the stepped rents or rent free periods expire.
As the largest tenant of premises just acquired, Ulster Bank accounts for around 30% of the overall rental income and has a further 16 years to run.
Of the 24 shops just sold 21 are at Plaza level and three are in the courtyard. The sale also includes a warehouse and a site of over half an acre at 19 Corrig Road which is let to Knight's Catering at €40,000 per annum. The ten year lease running until 2024 gives the tenant an option to purchase the premises.
There are four food outlets among the units sold, Munchies, Starbucks, Coffee Shop and Pizza Hut. There is also the Centric Health, Primary Care, Ben Dunne Gym and Mango Tree. Patricia Ward of Cushman & Wakefield handled the sale and Natalie Brennan of CBRE advised Clarendon.
Meanwhile, Clarendon and Finaxer have paid €13.7 million for Merchants Quay in Patrick Street, Cork, which is producing a rental income of €1.47 million.
The sale did not include four anchor tenants linked into the centre with their own footprints occupied by Dunnes Stores, Debenhams, Marks & Spencer and SuperValu. A multi-storey car park is also separately owned.
Joint agents Savills and CBRE handled the sale which included some 29 retail units over two floors along a central aisle. JLL advised the purchasers.
Ownership of the centre has changed hands a number of times but the renewed interest on this occasion was prompted by the opportunity to increase the rental income through internal redevelopment and the usage of circulation space to accommodate larger retail units. City planners have also approved of a plan to change the façade onto Patrick Street, replacing part of the brick walls and windows by attractive glazing.
Article by Irish Times