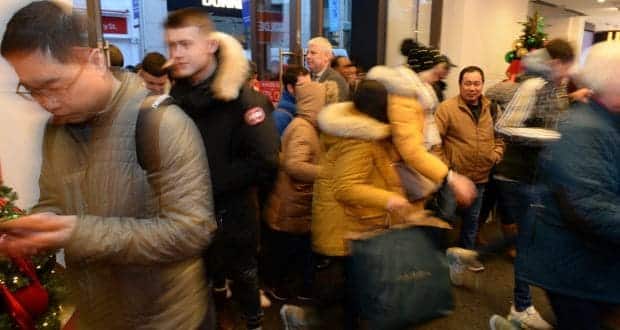 Bargain Town: Diehard shoppers dive in for sales discounts
Bargain-hunters braved the first properly cold morning of the Christmas season to hit the sales and get their hands on what didn't appear under the tree on Christmas morning.
The truly dedicated had been in Dublin city centre since before 6am, when the first few shops opened their doors, most notably Next. The retailer's red carrier bags were the most conspicuous on the streets in the earlier hours, and its shelves were, if not decimated, certainly significantly depleted by 8.30am. Most retailers, however, went for a more civilised 9am start.
A small group of people, fewer than 10, had gathered outside Arnotts on Henry Street by 8.45am. By the 9am opening time their number had grown to about 80, and when the doors did open they sprinted through the shop – more in the spirit of gamely getting into the occasion than from any real necessity to beat their fellow shoppers to the best of the bargains.
Those waiting for the doors to open were shoppers with definite strategies. "I planned it out a number of days ago, I know what I want and where it is. The only mistake I made is that I'm in since 7am because I thought more places would be open," said Rachel Berthiani from north Dublin.
She was in the market for a Mac lipstick and lipliner from Arnotts, hoping for a 20 per cent discount, before a dash down Henry Street to Pull and Bear for a black velvet jacket she had her eye on before Christmas.
With her was Edward Moore, from Drimnagh but living in Blanchardstown, who it appeared was in danger of holding up the show, having set his sights on a Lacoste polo shirt and Topman jeans. These were items, Ms Berthiani noted disapprovingly, which would require a visit to the changing rooms.
In Brown Thomas, the handbag department had its own compound queues – or queues within queues – for each individual designer's wares.
"I know the bag I want, but I don't know if they still have it, because I saw it, but went off to think about it, but now I have to wait to get back into the area," said one Co Meath shopper in the Prada queue, who did not want to be named. The bag, if she's successful in scoring it, would cost around the €500 mark after a 40 per cent discount, she said.
Among the Brown Thomas clientèle, this put her in the ha'penny place. Another Dublin shopper, who also preferred not to give her name, said: "I've spent €3,000, no maybe €4,000 so far," adding she was not yet finished shopping. "No, I might spend the same again, because everything I've bought was 50 per cent off."
Large numbers of Asian shoppers were snapping up the high-end bargains, largely it appeared on cosmetics, shoes and bags, on both sides of the city. "I would like a dress for myself, but I am here to buy Estée Lauder cosmetics for my friends," said Robin Zhang from China, who is studying for a masters in international business. "There are a lot of Chinese people shopping here today, I study here, but I think a lot of people are on holiday."
The phenomenon of the Asian shopper in Dublin has been growing for some years, but Brown Thomas stores director Mark Limby said the surprising trend with this year's sale was the number of young male shoppers. "I'd say 70 per cent of our initial customers were young guys, in the 15-21 years-of-age bracket. They were in the door and straight to menswear."
The company's shops in Cork, Limerick and Galway saw a more traditional shopper profile, with accessories and women's clothing the main draws he said. Footfall appeared to be strong across the regional cities, said Thomas Burke, director of Retail Ireland.
"Pre-Christmas, the Dublin stores were outperforming the regional cities, but there's a general sense most places are busy today across the country, with Cork and Galway doing particularly well."
In Cork city, Saville Menswear owner Jim O'Regan reported a bumper return, with the miserable weather doing little to deter bargain-hunters, who flocked to the city centre in droves.
"It was amazing given the weather – we really thought people would stay at home given it was so wet and cold here in Cork but we had people travelling from far and wide to come to town. We had people coming from as far away as Clare – lots of country people coming in to avail of the bargains. We launched late on Christmas Eve but today was the first full day of sale and I would estimate that business was up 15 per cent on St Stephen's Day last year. And tomorrow will be even busier because all of the shops will be open, whereas only some shops were open today, so we should see even bigger crowds in Cork city tomorrow."
Article by Irish Times